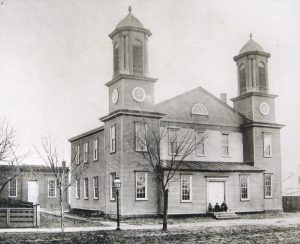 Stories From Marietta's Pioneer Church Program
Join us for a presentation highlighting early stories of Marietta's pioneer church along with tales from later historical periods, including the Civil War and WWII.
PRESENTERS:
LINDA SHOWALTER, Marietta College Special Collection Associate
SCOTT BRITTON, Executive Director of The Castle
JERRIE BERENTZ, Congregational Church Archives Researcher
ON DISPLAY:

"OHIO PIONEERS" panels from Marietta College's collection
DATE:

Tuesday, August 31, 2021
TIME:

7:00 PM
COST:

$15 in advance

AND

 $15 at door (

change due to online ticket purchase issues

)
LOCATION:

Our church sanctuary, 318 Front St, Marietta, OH
For tickets, call (740) 373-0741, visit our church office [M-F, 9am-1pm], or email congucc@sbcglobal.net to reserve your ticket (and pay at the door). Credit cards are accepted.
*Note: Music begins at 6:30PM. Light refreshments will be served afterwards.
Worship services are now in-person as well as Zoom. 
Moving forward we are using the same Zoom link for our Sunday worship services:
You may login at 9:45am and our words of gathering will begin at 10:00am. We will keep everyone muted for the worship service but after the benediction we will unmute so we can take time to catch up with one another.
The first Sunday of the month is when we traditionally celebrate the sacrament of Holy Communion together. We invite you to have elements available at home to use.
You are welcome to worship here! If it's your first time here, your first time back, or you've been here all your life, welcome home to First Congregational Church!
We would love to hear from you!