A Welcoming Home for Worship, Fellowship and Good Works
Many local people, groups and organizations use the church to minister to others, learn, sing, help those who need it, raise funds for good works, perform, form personal bonds, socialize, gather to share, celebrate special milestones, mourn losses, take a break, bask in the beauty of Muskingum Park or just watch the passing scene.
  Facility Features and Functions
Top Floor
A gymnasium-sized fellowship hall located on the top floor of First Church Educational Building is often used for church and community events. Second only in square footage to the Marietta Shrine Club building, our Fellowship Hall is the second largest rentable space in Marietta. There is a fee for non-church groups to use the hall and/or kitchen.
Church offices, a large well-equipped kitchen, and a meeting room comprise the rest of the top floor. A motorized chair lift provides access to the top floor.
Street Level
At the street level are many smaller rooms used for Sunday School, the  Harm reduction Program, and Franciscan Meals. Our church also serves as a meeting place for AA and Al-Anon groups, the annual Kiwanis Pancake Festival, and more. Over the years, the community has been entertained by in our sanctuary by the Marietta College Choir and other visiting choirs.
Sanctuary
Whether or not a First Congregational church member, many couples often request to be married in our lovely and accommodating sanctuary. If you are among those, call the church office to request information and/or a meeting at       740-373-0741.
Activities
Other activities in which First Church participates include the One Great Hour of Sharing, Neighbors In Need,  and the Christmas Fund.
A few of the activities hosted at First Church within a given week: Please note: Due to the pandemic, the sanctuary is open only for personal prayer and devotion 9-12noon on weekdays. No in-person worship is taking place at this time.
Worship every Sunday at 10:00
Saturday morning Free Community Breakfast (carry-out only) 
Church functions such as lenten soup suppers, pot lucks, classes, programs, fundraisers, Walk on Water, private meetings, and counseling, to name a few.
Weddings, Baptisms, Funerals
Special tours for one, families or groups
Outside tours by the Trolley, buses and the Historical Society
Personal retreats and prayer visits
Franciscan Meals on Wheels
AA or Al-anon
Empty Bowls
Kiwanis Club Pancake Days
Trillium Trio, other instrumentalists and vocalists
Family reunions, meals and photo setting for Church members and friends
Marietta College Choir
Parade watching
Place for walkers, joggers and cyclists to stop for a rest
Community hub for service and comfort at times of crisis such as floods
Since many community events and services are based in our church home, we hope local residents, businesses and organizations will recognize First Congregational United Church of Christ as a community true to the teachings of Jesus, a beacon for the pioneering spirit, a welcoming family for the displaced, a celebrant of diversity, and a symbol of enduring hope.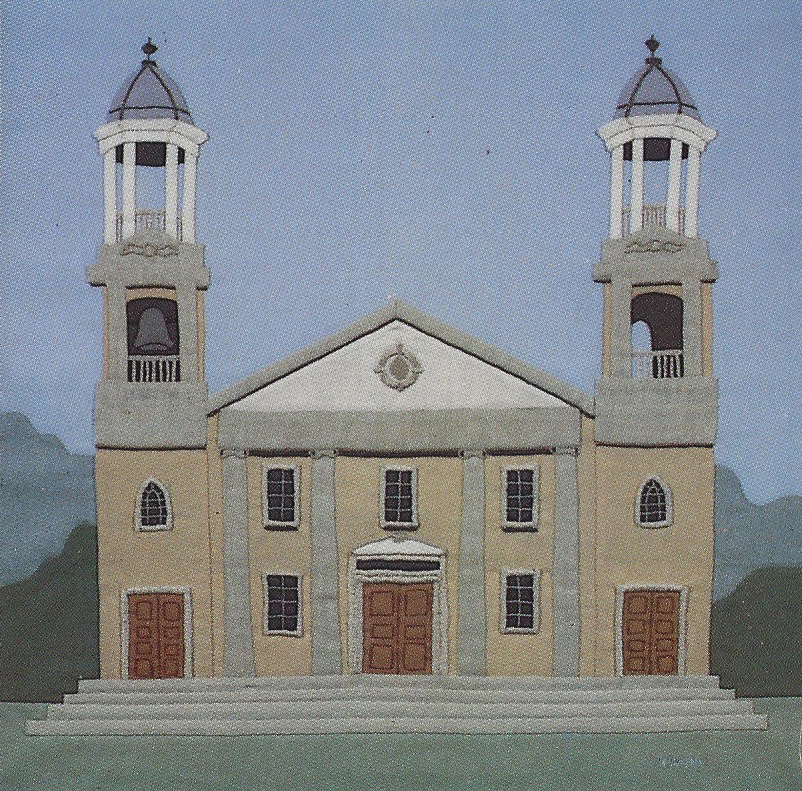 The First Congregational Church, sometimes known as the "Two Horned Church" because of its twin towers, is home to the oldest congregation (1796) in Marietta and perhaps the oldest congregation in the State of Ohio. After meeting in Campus Martius for a few years after Marietta's founding, a wood-frame church was built in 1807. It stood almost a century before being destroyed by fire in 1905. In 1906, a yellow brick building of the same architectural design as the original structure was dedicated on the same spot.
The image of the twin-towered local landmark is of an applique made by Dori Cook. It is one of 20 Marietta scenes incorporated into a quilt created in 1988 in honor of Marietta's bicentennial.
Our "Welcome Home" is offered with great sincerity. We welcome you as we'd welcome Christ. 
If you come as a guest, we hope you will stay as a friend.
Office hours: Monday – Friday from  9:00 a.m. -1:00 p.m. Email us anytime or call 740-373-0741. If no answer, please leave message and tell us how to reach you. 
Rev. Carla Wobschall, Senior Minister
Patricia Peoples, Commissioned Minister Administration
Becky Holmes, Secretary
Scott Hobson, Organist and Choir Director
Rod Hendershot, Grounds
Debbie Gains and Becky Holmes, Housekeepers
It has become necessary for us to launch a capital campaign for funds needed to refurbish our historic bell towers and make repairs to our church home. Most of the funds for this campaign will come from our members, but we invite the community to participate.
Gifts may be made through the church office. Email us or call 740-373-0741. If no answer, please leave a message and tell us how to reach you. Download our campaign case statement — Restore • Renew • Rejoice — for more information.
For where your treasure is, there will your heart be also.  — Luke 12:34